Club reopens under strict social distancing conditions

14 May at 2100
Opening Hours: 8am to 8pm
Maximum play per booking is 80 minutes (providing a 10min arrive/depart window)
Courts MUST be booked using the Clubspark booking system
A fully paid up member may bring one guest from their household, for example wife, husband, child
You may not bring guests outside your household
Members with outstanding due fees must pay now in order to participate
Bookings from unpaid members will be deleted
As a courtesy to the other players please do not book for more than 3 sessions per week per household (Monday to Sunday) and only for 1 session per day per household.
Singles only, unless players are all from same household
All play is for training, recreational or social purposes. No competitions or league matches until further notice
CLUBSPARK BOOKING INSTRUCTIONS
If you would like to play you will need to book a court online - either via the web or an app.
Go to the club website https://cavershamltc.co.uk/ and then to BOOK. Then log in.
You will be limited to one session per day lasting up to 90 minutes. 
Once you've made your booking you will get a confirmation email. 
You can book the available courts for a game or if you wish book Court 7 to hit against the wall.
Download the ClubSpark Booker app here: Apple or  Android
If you can't access the booking system please email the office, and allow for some delay.
FACILITIES
The Dome remains closed.
The Club House remains closed.
The ball machine is not available
First-aid box is stored in the ball machine housing
COURTS
The coaching team has sole use of two courts (carpet) unless they have been released
The rest of the courts are made available to all members
Gates to courts should be open permanently using cable ties or similar
 
SOCIAL DISTANCING
When at the club players must adhere to Social Distancing guidelines at all times
No extra-curricular activities or socialising before, during or after
Players avoid changing ends or change at opposite sides of the net
Players bring their own marked tennis balls and sanitisers and only handle your own racquet and marked balls
Strictly no spectators
Where attendance of a parent/guardian (non-participant) or a carer for a disabled player is required, it should be limited to one per player where possible, with social distancing strictly observed while watching the sessions [LTA Quotation]. Please refer to the club rules for definition of a child.
Please make sure you read the LTA guidelines for tennis players.
DO NOT COME TO THE CLUB WITHOUT A BOOKING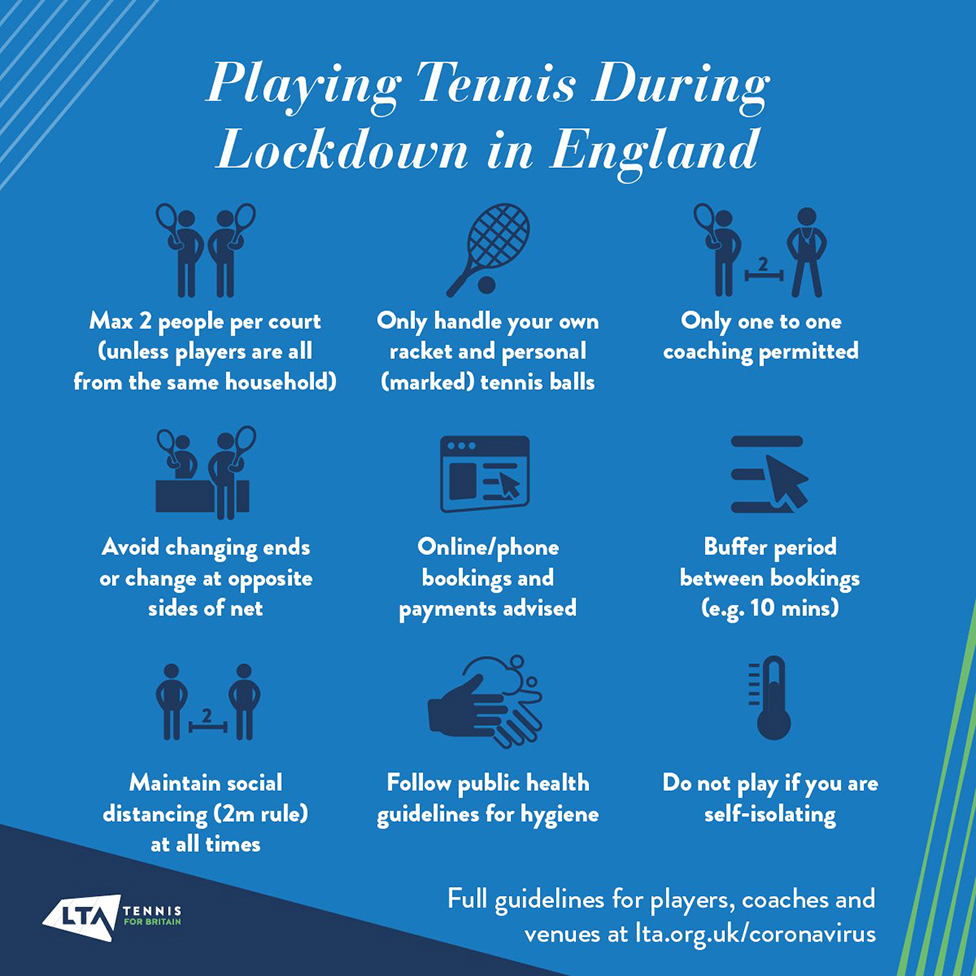 ---